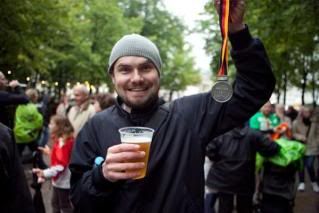 CEO of 2nd Drop Records, Markle is running The Virgin London Marathon on 17th April 2011.
Markle will be attempting to run 26.2 miles in under three human hours.
But it will all be worth it!
Charlie Dark, our good friend and running adonis is largely to blame for all this. He invited Markle to start a running club with him back in 2007 called Run Dem Crew (www.rundemcrew.com). He accepted, and the rest is a sweaty, 1000k history. But Markle never looked back and he's very proud to be a part of it to this day.
Markle would like to thank Raft for allowing him to run for them. They do some sterling work. Our friend James hurt his leg badly last year and received some great treatment for it, so this has a real resonance with us all. Here is some info on them:
Around the world, the lives of hundreds of thousands of people are affected by skin disfiguring illnesses and damage such as burns, wounds, limb amputations and skin cancer. RAFT is here to help them.
RAFT stands for the Restoration of Appearance and Function Trust. We are an independent registered charity carrying out pioneering research into practical and affordable ways to save and repair skin.
Charlie put it perfectly...."In other words they are small charity who need as much help as they can get. Best to support now before you find it's you or one of your friends and family that needs to have their face repaired because of some traumatic incident."
* Some people have pledged to double their donations if Markle runs under 3hrs. This is going to be bloody hard, so feel free to pledge the same.

See all the good work they do here:
http://www.raft.ac.uk/

To make a donation click here:
http://www.justgiving.com/Mark-GurneyRDC
Markle will also be wearing some special trainers. Nike kindly donated some limited edition Nike x 2nd Drop Records trainers to help Markle achieve this amazing feat!